Show route
Start dates
Progam
Saturday and Sunday
On Saturday afternoon, you arrive and meet the other riders. Sunday morning you get together with "your" horse. The idea is that you will ride this horse all week. You brush and saddle your horse and then we have a "trial ride" locally. Sunday afternoon you can fill in the way you like.
Monday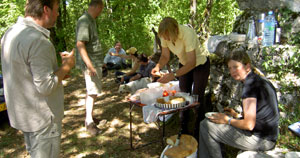 On Monday morning we make a trip to the Dordogne River. From Les Garennes we drive through forests and small villages towards Souillac. In the afternoon we enjoy a picnic in the woods while the horses are resting in a meadow.
Afterwards we continue our journey to the Dordogne where the horses can have their legs cooling in the water. We will stay in Lacave at Auberge Lacave. In the evening we have dinner at Souillac.
Tuesday
On tuesday we enter the valley of the L'Ouysse. Here the river joins the Dordogne under Belcastel. This is a great ride with long canters along the river.
Lunch is a short, simple picnic at the Moulin Caoulet. You can sample a walnut cake, a real local specialty.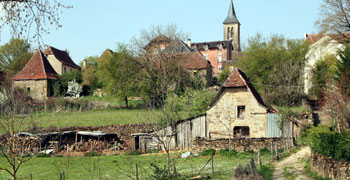 After lunch we continue our road to Rocamadour. We stay over night at Alvignac in a hotel in the centre of the village. The horses will remain in a pasture behind the hotel. If you want you can visit Rocamadour in a taxi immediately after arriving at the hotel.
Wednesday and Thursday
On wednesday the horses have the morning off. If you like you can visit the underground river Gouffre Padirac. We will have lunch in Alvignac.
After lunch, we take care of our horses and ride to Hotel de la Terrasse, a small castle, in Meyronne or Domaine de La Vaysse in Martel. We will spend the night in one of these luxurious and comfortable hotels.
On Thursday we return to Domaine des Garennes.
Friday and Saturday
Friday we have a morning tour, then you are free during the afternoon. On Friday evening we enjoy a farewell dinner with specialties from the Périgord. You return home Saturday morning after breakfast.