For over 30 years we, Annabella (Dutch) and Jean Paul (French), have enjoyed offering horseback riding holidays from Domaine des Garennes. Our 'domaine' is situated in a beautiful area in southern France, where the departments of
Dordogne
,
Lot
and
Corrèze
meet.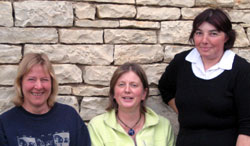 Besides us, the daily team consists of 'our' two Isabelle's.
The Flemish Isabelle is responsible for organizing the star rides. She is also your companion in the daily horseback rides from the domaine.
You can almost always find the French Isabelle in our kitchen. Together with the other Isabelle and Annabella she prepares the most delicious meals for you in the afternoon and evening.
Annabella is your companion on the trails. In the background Jean Paul takes care of all other things to make sure you have a pleasant holiday.
Your holiday
Most of our guests come for the trail or star rides. Non riding guests are free to book with family or friends in one of the cottages on the domaine. You can also have a half or full board in the guesthouse and enjoy everything we have to offer. And of course you can always sign in for a horseback ride while you're staying with us. Riding is available most days.
During your stay you you are free to enjoy the swimming pool, the two squash courts and tennis courts at no extra cost. There is also 'jeu de boules'. Furthermore there is much to discover in the area. And, of course, you can always relax or read a good book.
A special place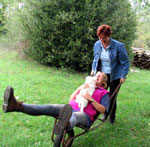 There is a good chance you will meet one of our regular guests during your stay. We often find that our guests return year after year because they feel at home at Domaine des Garennes. They tell us we have a very special place because of the combination of good food, reliable horses, beautiful tours, great hospitality and a good atmosphere.
Goodbye
Take your time explore our site. Or are you enthusiastic and do you want to book directly? Through the holiday of your choice you can very quickly and easily do so. For more information you can always contact us.
See you at Domaine des Garennes, at home in the Dordogne.
Annabella van Buuren and Jean Paul Vergne